About Glass with Class
David Hurwitz began cleaning windows as a boy in Natick, Massachusetts. While working at a shoe store, David's boss ran a side business cleaning windows and hired David to help. David ended up buying that business (which came with 3 clients) from his manager for seventy-five dollars. "I didn't even have a driver's license," said David, "but I owned a business." David continued washing windows to earn spending money.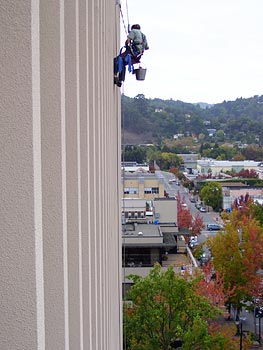 In 1984 David decided "I couldn't stand the weather any more!" jumped in a car and headed west to California. After two days in Los Angeles he knew that wasn't where he wanted to be and he headed north, landing in Sonoma County.
Quality Work and Reliability
Window cleaning being what he knew, he began selling his services door-to-door to small businesses and he gained some clients. His mother had bought him a collection of vintage tuxedos at one point, and David took to wearing a tuxedo when he arrived to wash windows, hence the name "Glass with Class."
"At the time there weren't many window cleaners in this area," said David. "I was selling quality work and reliability. I always showed up when I said I would, which was unusual for many people in the business." Eventually the focus of David's business shifted from commercial to residential window cleaning. "I put out some coupons and those jobs led to referrals and I ended up needing to hire help," he said.
Long-Term, Respectable Crew
Today, Glass with Class has grown in size and reputation. Depending on the season, David has up to 12 workers in his crew, many of whom have been with the company for a very long time. (They have replaced the tuxedos with company shirts.) His original business philosophyŚquality work and reliabilityŚcontinues to guide him and his company. "My goal is to make my customers happy," said David. "That's how I've grown. This is a job where you get instant gratification. We show up and everything's dirty, and when we leave we all have a good feeling because we've made things better. And I love it because I get to meet a lot of great people along the way."
Diamond Certified
Through word-of-mouth from happy customers, the company's reputation for quality has grown over the years,. Recently Glass with Class earned the prestigious Diamond Certified designation, awarded only to those companies rated highest in quality and customer satisfaction.
See our information on Diamond Certified.
Eco-Friendly, Experts in all Aspects of Window Cleaning
Over the years David has continued to improve techniques and equipment. From an original squeegee and a bucket, today the crews at Glass with Class use special carbon-fiber water-fed poles that can reach as high as 6 stories, incorporating special horse-hair or nylon brushes. From living room windows to storefronts, Glass with Class can handle any size job. They are even experts at scratch and stain removal, screen repair and replacement, pressure washing (using de-ionized water that leaves no residue) and mini-blind, skylight or gutter cleaning, always using eco-friendly cleaning materials and supplies. (The subject of green living and sustainability is near to David's heart; he even makes his own bio-diesel). They take great care to respect their clients' workspace or home. "When we leave, the only difference will be that your windows are clean," said David.