Residential Window Washing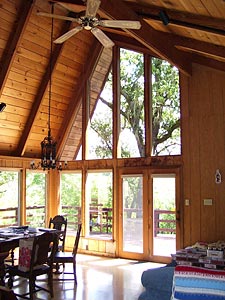 Few things can brighten the look of a home like clean, sparkling windows. At Glass with Class, we can return dingy, stained windows to like-new condition, adding value and curb appeal to your home. In addition to the best window cleaning available, stains, scratches and acid burns can be remedied by our experienced, professional experts.
Dish soap, which is used by many window cleaners, leaves a residue on the glass. Dirt and dust stick to this residue making windows look dirty again in just a short time. At Glass with Class, we use special de-ionized water (which leaves no residue) and safe, eco-friendly cleaning solutions designed to keep your windows clean longer than dish soap. Window tracks are thoroughly cleaned and vacuumed and moisture in the tracks is wiped away. Our crews lay down towels and wear protective booties to keep your home clean and dry during the process.
14 day rain guarantee:If it rains and your windows look dirty after a rain we'll come back and do it again FREE.
"They were quick, and it was a fantastic job." —J.R.B.